ABOUT US
Tourist Information Centre Verkhovyna was created in March 2008 as a public non-profit-making organization for the purpose of advertisement of the natural potential of Verkhovyna district of Ivano-Frankivsk region, promotion of its tourist possibilities, involvement of the wide range of tourists into recreation and tours on its territory, as well as from abroad, upgrading the level of tourist services, creating the tourist destination marketing based on the modern technology.
On the other side, this centre will encourage joining efforts of service industry workers in organizing the full package of services for tourists and satisfying their needs. It will become kind of a bridge between providers and consumers of the tourist services.
The objective of the Tourist Information Centre Verkhovyna is also focusing efforts of its members on the development of tourism in Verkhovyna, supply of the information and resource for the tourist sector, assistance for subjects of tourist business and tourists, facilitation of development of tourism personnel training system, contribution to the upgrading of ecological awareness of citizens and conduct of local history educational activity.
Tourist Information Centre Verkhovyna is open for collaboration with anybody who wants to, and is ready to transform within the Statute to the form which will be the most useful and essential for the wide range of Carpathian Mountains lovers. We are constantly ready to accept suggestions concerning the improvement of the work of our centre, as well as our website. We will be grateful to everybody for any help.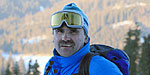 Faithfully yours, Vasyl Kobylyuk, the Head of the Board of Founders and the Chief Executive of the Tourist Information Centre "Verkhovyna", the winner of All-Ukrainian Professional Program "Kryshtalevyi Leleka", the Honorable Worker of Tourism of Ukraine